Psalm 119 in Song Book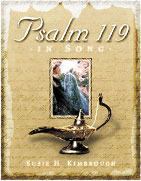 Originally published in 2001, the book contains printed music for all 22 songs (every verse of Psalm 119) for $18 per book.
They are fully arranged for piano to accompany singing or just to play for the enjoyment of the music itself. They can be used for choirs, solos, or for personal blessing. Each song contains the arranged music and words from the King James Version of Psalm 119. The 22 songs are divided into 8 verse sections titled with a Hebrew letter as found in most KJV Bibles.
CURRENTLY OUT OF STOCK
Psalm 119 in Song CD

Ten years after the printed music made its debut and has been used of God throughout the world, a CD of the twenty-two songs from Psalm 119 is now available. Sung and played by various artists, the vocal music and creative instrumental styles are sure to endear the songs and Psalm 119 to the hearts of listeners. Listen to Psalm 119 in Song CD samples.

Psalm 119 in Song CD & Book Combo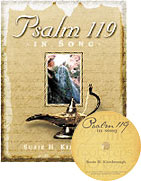 If you are new to Psalm 119 in Song and don't own either the book or CD, you can purchase both for a special combo price of $30.
CURRENTLY OUT OF STOCK